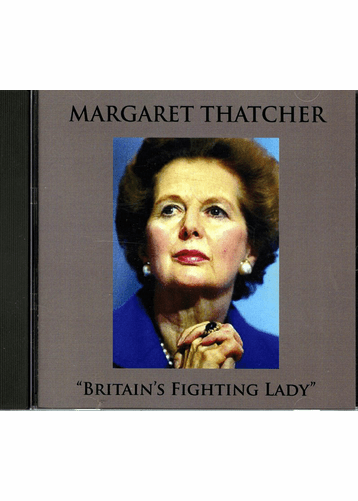 Margaret Thatcher: Britain's Fighting Lady CD
Product Description
Speeches and addresses given by Margaret Thatcher, who became the first (and for two decades the only) woman to lead a major Western democracy. She won three successive General Elections and served as British Prime Minister for more than eleven years (1979-90).
Tracks include:
Addressing the Finchley Conservatives
Arriving at Number Ten Downing Street for the first time as Prime Minister
Addressing the 1980 Conservative Party Conference
Addressing the House of Commons on the invasion of the Falkland Islands
Remarks on the re-taking of South Georgia
Statement on the Argentinian Surrender
Speech to the U.S. Joint Session of Congress
Speech to the College of Europe
final speech in the House of Commons as Prime Minister.
USA, 2012, 69 minutes.
Compact Audio Disk