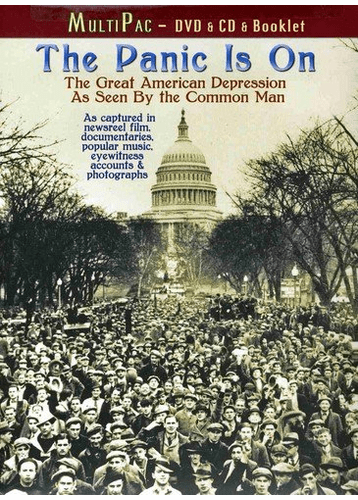 The Panic Is On: The Great American Depression As Seen by the Common Man DVD/CD/Booklet
Product Description
Perfectly timed to coincide with the current economic turmoil, this multifacited project eloquently communicates both the painfully hard times of the Great Depression and grace and strong will of thecommon man in confronting it.
This 120 minute DVD is comprised of intimate newsreel footage that captures a wide panorama of everyday American life- a soup kitchen in lower Manhattan, striking workers in North Carolina, the Boswell Sisters cheering up congressmen in Washington D.C., Zuni Indians in New Mexico offering their advice of how the white man should deal with the Depression, etc .Excerpts from Government-made films and classic documentaries offer stunning portraits of the poverty and distress of the times, and of the resourcefulness and courage American workers and their overnment employed to overcome it.
The CD compiles musical performances from the period that comment on the distressful time, both through vivid reporting and commical satire. Great performers like Bessie Smith, Eddie antor, Roy Acuff, Woody Guthrie, Ted Lewis, and many more present 23 classic selections.
The 32-page booklet offers very moving letters and observations from everyday Americans struggling to make it through the Depression, and many powerful photographs from the period.
Contents:
DVD:
Introduction
Jimmy Durante sings for the NRA
People struggle with the Depression's impact
New York soup kitchen tends to the needy
The Boswell Sisters perform for congressmen
The unemployed march for relief
A Zuni Indian offers perspective on the white man's Depression
Unemployed and down and out on the streets of Los Angeles
Dance Marathons
The Wall Street crash
A debutante sells her chinchilla coat
Fanny Brice and showgirls knit sweaters for the unemployed
Union textile workers strike
Dust storms on the Great Plains
Mississippi River floods of the mid-1930s
Storefront soup kitchen closed
Government programs in action
African-Americans put to work by the WPA
DVD Bonus Extras:
Our Daily Bread (excerpt from King Vidor's classic feature)
Electricity changes life in rural America
CD:
(Everything's Gonna Be) OK America - ART KASSEL and his Kassels in the Air
The Panic is On - HEZEKIAH JENKINS
If I Ever Get a Job Again - DICK ROBERTSON and his Orchestra
NRA Blues - BILL COX
The Clouds Will Soon Roll By - EDDY DUCHIN and his Orchestra
Nobody Knows You (When You're Down and Out) - BESSIE SMITH
We're In The Money (The Gold Digger's Song) - CHARLIE PALLOY
The Great Dust Storm - WOODY GUTHRIE
Headin' for Better Times - TED LEWIS and his Band
Bad Times Blues - BARBECUE BOB
Brother can You Spare a Dime? - CHARLIE PALLOY and his Orchestra
Bread Line Blues - "SLIM" SMITH
Welfare Store Blues - SONNY BOY WILLIAMSON
Franklin Roosevelt's Back Again - BILL COX
I Can't Go to the Porhouse - DICK ROBERTSON
Old Age Pension Check - ROY ACUFF and his Crazy Tennesseans
When My Stocks Come Tumbling Down - FIELDS and HALL
Down on Penny's Farm - THE BENTLEY BOYS
A tale of the Ticker - FRANK CRUMIT
In the Fall of `29 - W. LEE O'DANIEL and his Light Crust Doughboys
Starvation Blues - CHARLIE JORDAN
Cheer Up! Smile! Nertz! - EDDIE CANTOR
Good Old Times (Are Coming Back Again) - DICK ROBERTSON
INSET BLURB
MultiPac - DVD & CD & Booklet
Deluxe Edition
This latest release will offer an exciting multi-media experience, covering subjects from the three distinct vantages of music, video and the written word. USA, 2009, B&W/Color, 120 minute DVD/CD/32 page booklet
NTSC Region 0 encoding (Entire World)