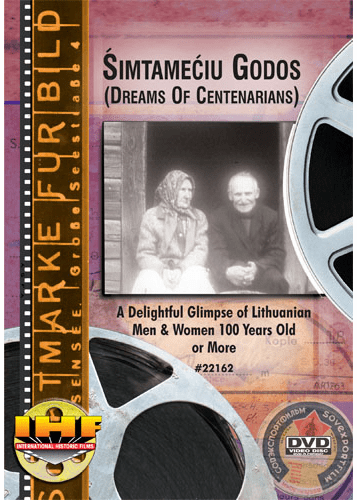 Dreams Of Centenarians (Šimtamečiu Godos) DVD
Product Description
This delightful glimpse of men and women 100 years old or more is charming and disarmingly funny. The timing and wit of the babushka-clad women seem almost professional as they discuss the lives and loves they experienced almost a century ago. Directors Sukelis and Verba strike some notes of somber reality as well, and the hardship of peasant life long ago emerges between the light-hearted moments. This film offers a rare look at figures from the Eastern Europe of a century ago, so distant from us today. Winner of the LSSR 1970 National Film Prize.
Lithuania, 1969, directed by Albinas Sukelis and Robertas Verba, B/W, 20 minutes, sound, Lithuanian dialogue, no subtitles.
NTSC Region 0 encoding (Entire World)
Šis nuostabus žvilgsnis į 100 ir daugiau metų sulaukusius asmenis yra žavus ir nuoširdus. Įspūdingas pagyvenusių moterų, apsirengusių tradicinėmis babuškomis, tempas ir šmaikštumas, kai jos apmąsto savo gyvenimą ir meilę beveik prieš šimtmetį. Režisieriai Sukelis ir Verba scenoje sušvelnina tikroviškumą, parodydami praeities kaimo gyvenimo būdo sunkumus. Šis filmas siūlo unikalų žvilgsnį į praeities rytų europiečių, kurių gyvenimas dabar atrodo visiškai kitoks nei mūsų, gyvenimą. 1970 m. LTSR nacionalinės kino premijos laureatas. Filmas, kurio veiksmas vyksta 1969 m. Lietuvoje, režisieriai Albinas Sukelis ir Robertas Verba, nespalvotas, dvidešimties minučių trukmės, įgarsintas, su lietuviškais dialogais be subtitrų.