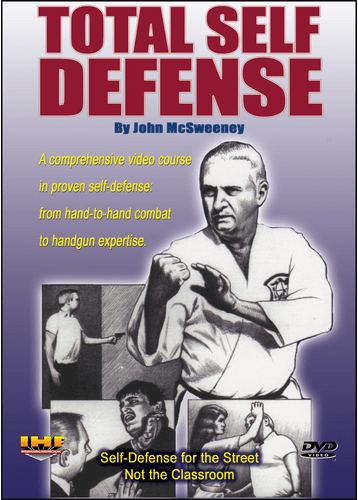 Total Self Defense (John McSweeney) DVD
Product Description
Self-Defense for the Street - Not the Classroom. If you've ever walked down a dark street late at night...if you've ever wondered what to do when confronted by a mugger or rapist...TOTAL SELF-DEFENSE is for you.
1991 Self-Defense Instructor of the Year, the late, John McSweeney, an internationally-renowned martial-arts and weapons expert and member of the World Martial Arts Hall of Fame, takes you through the definitive home self-defense course in this easy-to-follow video, emphasizing practical defense techniques that any man or woman--young or old--can use in real emergencies. Start with combat karate as you learn to deliver spontaneous, lightning-fast power strikes to vital targets with your elbows, hands, and knees. Learn to master the hand-gun--from stripping and cleaning to the subtle nuances of point shooting --and how to defend yourself with a knife when every second counts. And become privy to the ancient secrets of the kung-fu masters as you feel the strengthening benefits of McSweeney's tiger moves, based on time-honored kung-fu tension exercises. Finally, there's a comprehensive primer on self-defense--a 40-hour course condensed into one fascinating, practical DVD --a DVD that may save your life.
USA, 1991, Color, 120 minutes.

DVD FEATURES:
Point Shooting
Tiger Moves
Combat Karate


NTSC Region 0 encoding (Entire World)
Libraries and Institutions Please Note: Educational Editions with PUBLIC PERFORMANCE RIGHTS and DIGITAL SITE LICENSES are available.