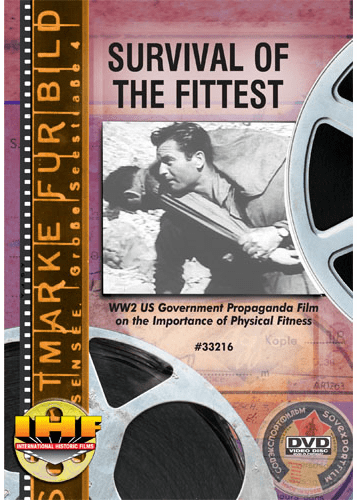 Survival Of The Fittest DVD
Product Description
WW2 US Government Propaganda Film on the Importance of Physical Fitness
There were plenty of stories of miraculous, heroic survival during World War 2 and the U.S. military wasted no time in bringing those stories to life, even while the war was still raging. In this high-quality film, acts of heroism and amazing survival -- on the battlefield and in the water -- are re-enacted, based on actual events. And how did "ordinary Joes" become heroes?
By the very real training you'll see, shot on location at military bases. Nothing staged here; the troops, both men and women, are shown in actual obstacle course and swimming pool training. And most impressive of all: massive, wide shots -- as huge as football fields in size -- of soldiers in synchronized calisthenics, looking as precise as the Rockettes, in a sight you've probably never seen.
USA, 1943, B&W, 20 minutes.
NTSC Region 0 encoding (Entire World)