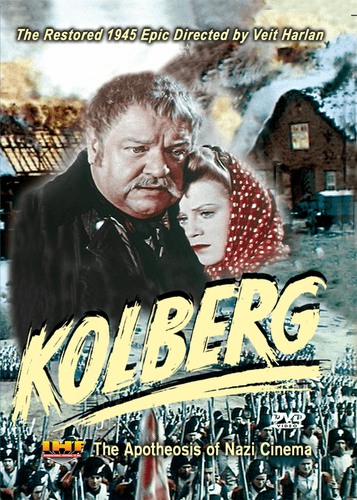 Kolberg: The Restored 1945 Epic Directed by Veit Harlan (2019 Deluxe Edition) (DVD)
Product Description
Remastered in HD with Switchable English & Spanish Subtitles
Filmed over late 1943 and 1944,
Kolberg
drew upon the historical resistance of East Prussian townsmen against Napoleon in 1807 in arguing its case for total war against the Allies. Its bone-jarring climax, showing Kolberg bombarded into rubble and flames by French artillery fire, unmistakably evokes Allied bombing raids across Germany at the time. Even as the Nazi regime was entering its last phases, it devoted lavish resources to staging Kolberg's spectacular battle scenes, detonating tons of explosives and diverting thousands of Wehrmacht soldiers from the front. Released amidst the chaos of early 1945,
Kolberg
was shown in a handful of Germany's still intact movie houses; today this apotheosis of the Nazi cinema survives as National Socialism's final statement to posterity. This new DVD edition represents a vast improvement over previous existing versions, featuring improved subtitles, restored sound, and painstaking restoration of the original Agfacolor in all its temperamental glory. Directed by Veit Harlan. Starring Heinrich George, Kristina Söderbaum and Horst Caspar. Music by Norbert Schultze. Germany, 1945, Color, 104 min., German Dialogue with Switchable English or Spanish subtitles.
SPECIAL FEATURES:
Scene Selections

Historical Background Autoplay Slideshow

Goebbels 1943 Total War Speech Newsreel

Actors Biographies

Digitally Restored and Remastered

Electronic Essay Booklet "Kolberg:The Apotheosis of Nazi Cinema"

Optional English or Spanish Subtitles
NTSC Region 0 encoding (Entire World)
Libraries and Institutions Please Note: Educational Editions with PUBLIC PERFORMANCE RIGHTS and DIGITAL SITE LICENSES are available.