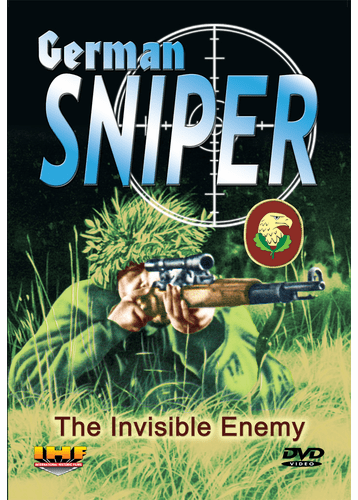 The German Sniper: The Invisible Enemy DVD
Product Description
* An IHF Classic
* Now Available on DVD!
* Digitally Restored & Re-Mastered Silent, motionless and deadly, German snipers lurked on the European battlefields of World War 2, hunting enemy sharpshooters, supporting assaults and laying diabolical traps on defense. Drawn from two German military training films made in 1944, this program provides fascinating views of tactics, weapons and camouflage techniques that are still viable today.
Germany, 1944, B&W, 67 minutes, English commentary and subtitles.
WARNING: This program is a serious educational presentation on the subject of snipers and sniping. It is intended solely for study by military and law-enforcement personnel, qualified hunters and students of modern battlefield tactics and strategies. No other use is intended, contemplated or suggested by International Historic Films, Inc.
DVD Additional Features:
* Digitally Restored & Re-mastered
* Scene Selects
* Switchable Audio Tracks: English Commentary & Original German
In stock and available for immediate shipping.
NTSC Region 0 encoding (Entire World)
Libraries and Institutions Please Note: Educational Editions with PUBLIC PERFORMANCE RIGHTS and DIGITAL SITE LICENSES are available.