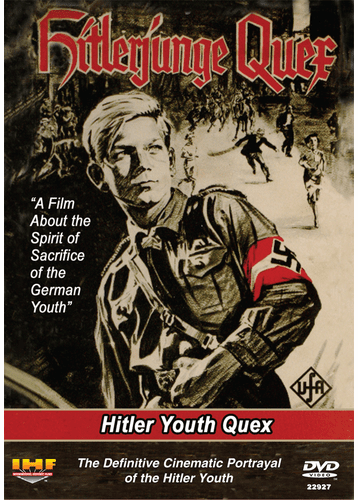 Hitlerjunge Quex (Hitler Youth Quex) DVD
Product Description
The year is 1931, and young Heini Volker has a problem. His unemployed father demands he joins Berlin's young communists. But his heart belongs to the Hitler Youth. How Heini resolves this quandry is the story of Hitlerjunge Quex, a movie that became central to the moral instruction of young Germans throughout the Nazi years. Produced in 1933, just months after Hitler's ascension to power, Hitlerjunge Quex drew from the real-life story of Herbert Norkus, a Hitler Youth killed by communist street-fighters in 1932. An expressly propagandistic vehicle, the film pulls few punches in its depiction of Depression-era misery and the escalating violence of the Weimar Republic's last years. Indeed, its bracing realism owes a strong debt to Germany's left-wing proletarian theater movement - an impression underscored by the several prominent leftist (or formerly so) actors featured here. Also striking are the movie's many quotations - a camera angle here, a mise-en-scéne there - from other Weimar-era classics, from Caligari to Fritz Lang's M and Bertolt Brecht's Kuhle Wampe. The fascinating result is a film that, more than any other Nazi-era production, combines hard-scrabble realism with National Socialist myth-making, its singular portrait of German working-class misery refracted through the transformative lens of Nazi ideology. An immediate box office success, the film became a Nazi propaganda staple for years afterwards, by 1945, an estimated 20 million viewers had paid some degree of witness to Heini's life and martyrdom. Produced by Karl Ritter; Directed by Hans Steinhoff; music by Hans-Otto Borgmann; featuring Heinrich George, Berta Drews, and Claus Clausen.
Germany, 1933, B&W, 87 Minutes, German dialogue with English subtitles.
DVD SPECIAL FEATURES:
· Historical Slide Show
· Original Promotional Materials
· Interactive Scene Selection
· Switchable English subtitles
· Worldwide Playback Compatability
SALE AND DISTRIBUTION PROHIBITED IN GERMANY, FRANCE, ITALY AND AUSTRIA.
NTSC Region 0 encoding (Entire World)
See also above Hitler Youth Quex DVD and Hitler Youth Quex Guide Book Special Savings Offer!
Libraries and Institutions Please Note: Educational Editions with PUBLIC PERFORMANCE RIGHTS and DIGITAL SITE LICENSES are available.