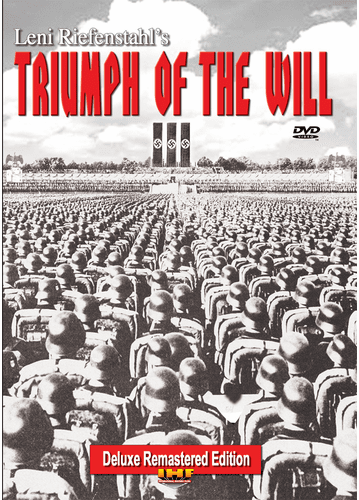 Triumph of the Will (Triumph Des Willens)(Leni Riefenstahl, 1935) Deluxe Remastered Edition DVD
Product Description
"One of the greatest documentaries ever made, by one of cinema's finest visual stylists"
She remains the most controversial director in motion-picture history. She was an assertive, outspoken, determined woman in a male-dominated industry. She has been called an artistic genius, the foremost innovator of non-fiction film, one of cinema's most innovative artists, and a vicious propagandist. To some, her very name is synonymous with film poetry; to others, she was a gifted artist who prostituted her talents to glorify the Third Reich. Together with Sergei Eisenstein, Orson Welles, Akira Kurosawa, and Ingmar Bergman, Leni Riefenstahl is one of the cinema's finest pictorial stylists. Starring roles in a series of mountain films (Bergfilme) made her one of Germany's most popular actresses. Her directorial debut in The Blue Light (1932), a stunning mountain picture in which she also starred, was seen by an entranced Adolf Hitler, who, after becoming Chancellor, asked her to produce a feature-length documentary on the 1934 Nazi Party Rally in Nürnberg. Riefenstahl demanded and obtained complete artistic control, including the final cut of the film. Triumph des Willens (Triumph of the Will, 1935), one of the most polemical pictures ever made, was awarded a gold medal at the 1937 Paris International Exposition as the best documentary film. From the moment the Führer makes his Wagnerian descent into Nürnberg, one is aware of the film's sheer immediacy, its harmonies, and rhythms, and its stylistic innovations: from the cloud motif of the opening sequence to the constant, rhythmic montage of faces; from vertiginous aerial shots to low-level shots of Hitler that transform him into a virtual god; from abstract patterns of untold thousands of humanity to restless, constantly moving cameras that track and dolly and swoop and soar; Riefenstahl creates a stylized, idealized worldview—a disoriented, disorienting place apart from that she would perfect in Olympia (1938). Its lasting influence on other filmmakers—Mikheil Chiaureli's The Fall of Berlin and George Lucas' Star Wars, for instance—and even commercials continues into the twenty-first century. Documentary or propaganda? The director always maintained that the picture was a documentary record of a historic event, while the Nazis exploited it as potent propaganda. Riefenstahl's conception of reality is that of the heroic ideal (present in all-mountain films) and physical beauty. Triumph of the Will is a personal vision—and a visual poem—to the idealism of National Socialism. If this ideal represents "fascist aesthetics", it is also as old as the Greeks.
Germany, 1935, B&W, 110 minutes. Directed by Leni Riefenstahl. Cinematography by Sepp Allgeier, Walter Frentz, and many others. Music by Herbert Windt. German language with switchable English and Spanish subtitles.
DVD SPECIAL FEATURES
Four Interactive DVD Slideshows:
Historical Background; Making of the Film; Personalities and Locations.
SA Historical Background.
Original Promotional Materials and Media Articles with Interactive English Translations.
Original Third Reich Photo Book: " NURNBERG 1934" on the Reich's Party Convention. Digital Audio/Visual Book with English Narration. [9 Min.]
Two Bonus Shorts:
DAY OF FREEDOM: OUR ARMED FORCES (Tag Der Freiheit: Unsere Wehrmacht), Leni Riefenstahl's complement to Triumph of the Will. NOW COMPLETE AND UNCUT! Restored with a recently discovered 10 minute middle reel, which includes, according to Riefenstahl, one of her best filmed Hitler speeches. [26 Minutes].
GENESIS OF TRIUMPH, A new IHF featurette overview of the events leading to Hitler taking power and the significance of the Nuremberg Party Convention. A comprehensive look at precisely what takes place in Triumph of the Will, including novel facts about Riefenstahl's film editing. [23 Minutes].
Other DVD Features:
Interactive Scene Selection
Switchable English and Spanish Subtitles
Digitally Restored from Original 35mm Film Elements using daVinci Revival tm Technology.
Optimal DVD-9 Dual Layer Edition
NTSC Region 0 encoding (Entire World)

Available For Immediate Shipment
Libraries and Institutions Please Note: Educational Editions with PUBLIC PERFORMANCE RIGHTS and DIGITAL SITE LICENSES are available.
See also Behind The Scenes (Book), and Triumph of the Will DVD/Book Set: K66 Special Savings Offer