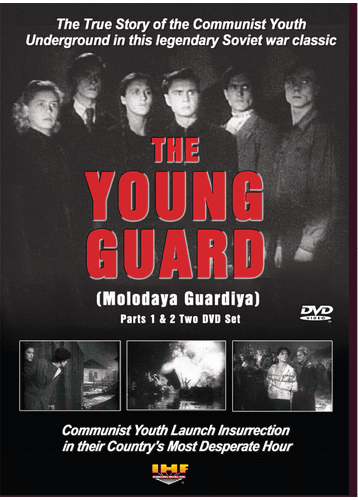 The Young Guard Parts 1 & 2 (2 DVD Set) (Molodaya guardiya)
Product Description
The Young Guard shows a band of Ukrainian teenagers waging a desperate partisan struggle against Nazi occupiers. In telling this story, based on true events already memorialized in the Aleksandr Fadeev novel of the same name, director Sergei Gerasimov went the extra distance, sending his young actors to live with the families of the youth depicted in this film. The performances, coupled with Gerasimovís startling innovations with sound and image, make this one of the most authentic, deeply felt and influential of Soviet war films.
This 2-DVD Set follows the two-part format of the original 1948 release: Part I depicts the cruelties of German occupation and the gathering of resistance, while Part II shows the partisans in spectacular action, diverting German troops with a concert (itself a fascinating showcase for Ukrainian folk culture) while attacking their headquarters. Retribution inevitably follows, but Soviet audiences reliving these tragedies in 1948 knew the sacrifices were not in vain. Directed by Sergei Gerasimov, featuring Inna Makarova, Nonna Mordyukova & Sergei Gurzo.
USSR, 1948 (1964 re-released revised version), 2 DVD Box Set. B&W, PT 1: 85 minutes; PT 2: 80 minutes. Audible Russian dialogue with fixed (non switchable) English Voice-over translation.
DVD FEATURES: Historical Background slideshow
NTSC Region 0 encoding (Entire World)
Libraries and Institutions Please Note: Educational Editions with PUBLIC PERFORMANCE RIGHTS and DIGITAL SITE LICENSES are available.