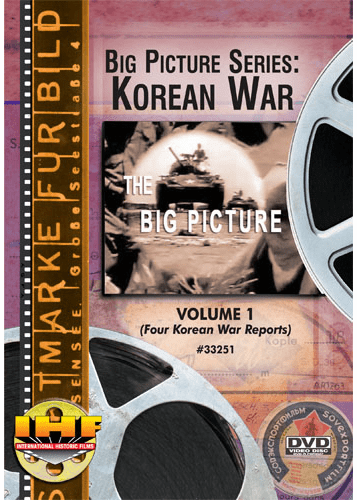 Big Picture Series: Korean War Volume 1 DVD
Product Description
Includes Four Big Picture Series Episodes on the Korean War:
THE FIRST FORTY DAYS IN KOREA (June 1950): In this THE BIG PICTURE documentary film we watch as several company's of the 24th Division fight the Communist Chinese against great odds. They are fighting the first thrurst across the 38th Parallel in Korea.
TURNING THE TIDE (Aug. 1950): This film describes events in Korea from August 10 to September 20, 1950. We see how American troops fought to hold on to the Pusan perimeter, the air support they received from carriers, and the march on Seoul. It also includes a report from Lieutenant Tom Dreisenstock, Platoon Leader of the 24th Infantry Division.
UNITED NATIONS OFFENSIVE (Sep. 1950): From September 20 to October 20, 1950 United Nations forces struck hard against the Communist army in Korea. Footage shows the recapture of Seoul, the fall of the North Korean capital city, Pyongyang, an airdrop by the 187th Regimental Airdrop team, and the U.S. Navy battleship Missouri in action.
CHINESE REDS ENTER THE KOREAN WAR (Oct. 1950): In this THE BIG PICTURE we see American soldiers battling winter cold, as well as the Communist Chinese, in Korea. The film shows how soldiers saved thousands of lives with quick evacuations of wounded U.S. fighters in helicopters. Also included is a display of the finest weapons in the world -- the U.S. Army's.
(4 Episodes on 1 DVD, RT. 115 minutes)
NTSC Region 0 encoding (Entire World)


See also Big Picture Series Korean War 7 Volume Set Special Savings Offer!